Nationally, manufacturing has experienced significant drops in employment, but the sector has seen some job recovery since 2010., In the Bay Area, the share of jobs (based on the North American Industry Classification System (NAICS) categories) in manufacturing has fallen over the last ten years, but more slowly than the rest of the US, giving the region a competitive advantage.
Most manufacturing in the Bay Area requires workers to operate computer-based machinery rather than engage in manual work along an assembly line. This type of production is known as "advanced manufacturing." Most production jobs that support the high tech sector, particularly in the computer and electronics industries, involve advanced manufacturing. These jobs tend to be located in and around Silicon Valley.
Food manufacturing, concentrated in North and East Bay counties, is also an important regional industry. San Francisco includes clusters of both advanced manufacturing and food manufacturing facilities.
Education and training are important to the manufacturing sector. There are a large number of replacement job openings in the Bay Area, that is, demand for new workers as older workers retire. Because advanced manufacturing requires a high level of skill and education, it draws from a population of highly skilled workers, making the need for workforce development and education vital.
Land use planning also has an impact on manufacturing. Some cities in the region have taken steps to preserve industrial land from conversion to other uses that can command higher land values. However, this is an area of debate in many localities, particularly in areas such as transit-rich locations that might otherwise be considered high priorities for higher density mixed-use infill development, including housing.
Job Quality
In the Bay Area, the quality of jobs within advanced manufacturing and food manufacturing firms is highly variable depending on the goods being produced. Manufacturing of machinery, computers and electronics, transportation equipment, and beverages have a moderate to high share of jobs that pay a living wage and that require a range of skills. Garment production and furniture manufacturing do not pay well despite requiring some level of experience and on-the-job-training. Food manufacturing varies in its job quality. Overall in the region, only 15% of workers in food manufacturing earn a living wage, and the majority of jobs are low-skill, requiring a high school degree or less. However, the quality of similar jobs can differ significantly from firm to firm. For example, some specialized food production firms pay living wages and provide benefits and on-the-job training.
Inner City Advisors, an education and workforce consulting group that focuses on growing small businesses that offer quality jobs, works with firms involved in specialized food production. Revolution Foods, one of their first clients, went from a staff of 11 employees to more than 800, and provides quality jobs, by hiring from the communities it serves, providing opportunities for growth, paying fair wages and benefits, and using an employee ownership model.
Transit Challenges and Opportunities
Relative Density of Industries of Opportunity
Industries of Opportunity
Density
Healthcare
↓
IT
Advanced and Food Manufacturing
Energy
Biotech
Transportation and Warehousing
There are several signficant clusters of advanced manufacturing and food manufacturing jobs in the East Bay and South Bay, including south Fremont and the area surrounding the future Warm Springs BART station, where about 7% of all jobs in these two sectors are located. Other clusters include the corridor stretching across Sunnyvale and Santa Clara (10% of jobs in these sectors) and North San Jose (16% of jobs in these sectors). While these clusters contain a significant portion of advanced manufacturing and food manufacturing jobs, they are less dense than more walkable job centers such as downtown Oakland and San Jose. This is also reflected in the regional sector measurements of density shown at right.
This low to moderate density, which can be attributed to a need for large floor plates and potentially negative externalities associated with manufacturing (noise,odor, truck traffic, etc), can create a challenge in linking manufacturing jobs to transit. About 37% of jobs in advanced manfacturing and food manufacturing (about 112,125 jobs) are located near high quality transit. That is lower than the share of jobs near transit for all industries in the region (51%). Together, advanced manufacturing and food manufacturing rank third best among Industries of Opportunity in transit accessibility.
Figure 1. Advanced and Food Manufacturing Firms Proximity to Transit
Workforce Profile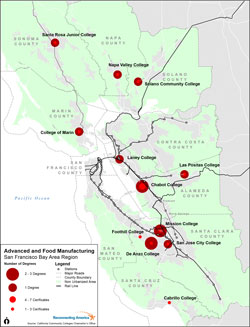 From the workforce development perspective, advanced manufacturing and food manufacturing are well-established as industries that offer living wages and career-ladder opportunities for workers. Union organizing through the last century played an important role in increasing the quality of these jobs, and this continues to be true today. The Career Advancement Academies in the Contra Costa and Peralta community college districts identified advanced manufacturing and food manufacturing as industries they focus on for curriculum development. In the Bay Area, community colleges offer 12 certificate programs and 10 degree programs in advanced manufacturing and food manufacturing. However, only seven of those colleges are near quality, high-frequency transit, meaning that workers who can't afford a car may have difficulty accessing the full spectrum of programs offered.
Key Issues
Commuting: Linking the residents who live near these job clusters to nearby training and jobs is critical to supporting the region's economy. Employees are traveling from homes as far away as Eastern Contra Costa County—and these long commute distances have started to impact job quality.
Long-term viability of manufacturing in the US: The focus on manufacturing processes that are difficult to export, such as computer-related processes related to product development, food manufacturing, and, as Kristen Spaulding at SMCUCA has pointed out—linking the healthcare industry with medical manufacturing in terms of economic and workforce development connections, might be one approach to thinking about the future of manufacturing in the US. The Urban Future of Work, a 2012 report by SPUR, argues that maintaining industrial land to support the region's growth sectors (including knowledge and IT related work) will be important for the region's competitiveness moving forward.
Wages and Skill Levels in Advanced Manufacturing and Food Manufacturing
NAICS
Code
Description
% Paying
> $18.50
an hour
%
Low
Skill
%
Middle
Skill
%
High
Skill
333
Machinery Mfg
55%
13%
66%
21%
334
Computer and Electronic Product Mfg
74%
13%
37%
51%
335
Electrical Equipment, Appliance, and Component Mfg
43%
27%
56%
17%
336
Transportation Equipment Mfg
73%
7%
55%
38%
337
Furniture and Related Product Mfg
23%
17%
79%
4%
311
Food Mfg
15%
65%
33%
2%
312
Beverage & Tobacco Product Mfg
51%
42%
50%
8%
3399
Misc Mfg
40%
17%
70%
13%
8113
Commercial/Industrial Machinery and Equipment Repair and Maintenance
78%
13%
80%
6%