Case Study: Location of Training Centers and Community Colleges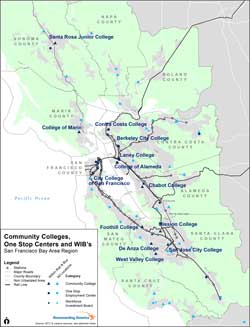 The location and transportation accessibility of job training and placement centers is vital for those seeking employment or upward mobility. One-Stop Centers, community colleges, and adult education programs are the three main public entities providing the educational backbone for training low-income Bay Area job seekers. Non-profit organizations and unions also provide job-training programs.
Ensuring quality transit access to these centers is important because many patrons are working full time while attending classes and searching for new jobs. The ease of transit access between home, work, and school may be the factor that determines whether a worker decides to pursue additional training or not.
Job training centers are not always transit accessible and if the bus isn't reliable, trainees can miss days of training and get kicked out.
–Congregations Organizing for Renewal Member
Workforce development and job training programs are located throughout the Bay Area but are not always easily accessible via transit. Figure 4 shows the locations of these services. Some One-Stop centers are located in job centers and some are embedded within community colleges. Locating One-Stops in these kinds of locations can make it easier for low-income residents to access the services they provide. Of the 34 One-Stop Centers in the Bay Area, only 8 are near a train stop and an additional 8 near a bus stop with frequent service (every 15 minutes or more). The 37 community college campuses (including satellites) in the Bay Area also play a key role in training workers for jobs. Many of these colleges target specific sectors or industries for job training as well, and these efforts are coordinated by a regional Community College Consortium. Of these campus locations, however, only 3 are within a half-mile of a rail station and another 10 near a frequent bus.